Awards
The CMMR 2013 organizing committee is happy to announce that 3 awards have been distributed during the conference thanks to the generous funding of the 3 sponsors
Abeille Musique
,
Qobuz
and
MusicWest
:
The MusicWest prize for the best student paper: a Avid MBOX Mini PE was awarded to Fernando Bravo for his paper entitled Changing the Interval Content of Algorithmically Generated Music Changes the Emotional Interpretation of Visual Images


The MusicWest prize for the best poster paper: a Sennheiser HD25 SP-2 headset was awarded to Holger Kirchhoff, Simon Dixon and Anssi Klapuri for their paper entitled Multiple Instrument Tracking based on Recontruction Error, Pitch Continuity and Instrument Activity


The Qobuz/Abeille Musique prize for the best music contribution: this prize offers a free distribution on all the online music platforms piloted by Abeille Musique. In addition, the composer as well as the piece will benefit from a particular publicity on the Qobuz streaming site. The prize for the best music contribution was awarded both to:
Robert Kieffer for Spark,
Diana Salazar for Capsicum Fever.
The CMMR2013 organizing committee warmly thanks the sponsors for these contributions!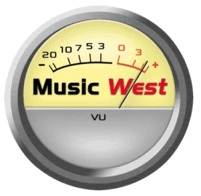 Music West
is a music shop specialized in MAO, Audio Pro & Sono equipment, that can either be purchased online on the Internet or directly in the shop situated close to Marseille.

Abeille Musique
is an independent, French record house created by Yves Riesel in September 1997.
Abeille Musique
produces and distributes classical music, jazz, world music, children's music, sound or literary documents.
Abeille Musique
differs from "numerical aggregators", since they offer a mixed physical and numerical solution to French and foreign music publishers using their own technology, and define themselves according to Yves Riesel as "a record house that has absorbed technical issues" and not as a numerical "pure player".

Qobuz
is an online purchase service which specificity lies in their lossless streaming offer. Its founder is the music editor Yves Riesel who is also the director of
Abeille Musique
. His entrepreneurial strategy consists in associating unique characteristics to an online music purchase service, such that a musical webzine.